With the arrival of warm weather comes the arrival of ticks. While ticks are prevelant all year round they are more active from April to September. Don't panic though! There are several things you can do to protect you and your loved ones from tick borne illnesses. Check out these tips from the Centers for Disease Control and Prevention (CDC) on dealing with ticks:
Know where to expect ticks. Ticks live in grassy, brushy, or wooded areas, or even on animals. Spending time outside walking your dog, camping, gardening, or hunting could bring you in close contact with ticks. Many people get ticks in their own yard or neighborhood
After You Come Indoors
Check your clothing for ticks. Ticks may be carried into the house on clothing. Any ticks that are found should be removed. Tumble dry clothes in a dryer on high heat for 10 minutes to kill ticks on dry clothing after you come indoors. If the clothes are damp, additional time may be needed. If the clothes require washing first, hot water is recommended. Cold and medium temperature water will not kill ticks.
Examine gear and pets. Ticks can ride into the home on clothing and pets, then attach to a person later, so carefully examine pets, coats, and daypacks.
Shower soon after being outdoors. Showering within two hours of coming indoors has been shown to reduce your risk of getting Lyme disease and may be effective in reducing the risk of other tickborne diseases. Showering may help wash off unattached ticks and it is a good opportunity to do a tick check.
Check your body for ticks after being outdoors. Conduct a full body check upon return from potentially tick-infested areas, including your own backyard. Use a hand-held or full-length mirror to view all parts of your body. Check these parts of your body and your child's body for ticks:
Under the arms
In and around the ears
Inside belly button
Back of the knees
In and around the hair
Between the legs
Around the waist
If you find a tick attached to your skin, there's no need to panic—the key is to remove the tick as soon as possible. There are several tick removal devices on the market, but a plain set of fine-tipped tweezers work very well.
How to remove a tick
Use fine-tipped tweezers to grasp the tick as close to the skin's surface as possible.
Pull upward with steady, even pressure. Don't twist or jerk the tick; this can cause the mouth-parts to break off and remain in the skin. If this happens, remove the mouth-parts with tweezers. If you are unable to remove the mouth easily with clean tweezers, leave it alone and let the skin heal.
After removing the tick, thoroughly clean the bite area and your hands with rubbing alcohol or soap and water.
Never crush a tick with your fingers. Dispose of a live tick by putting it in alcohol, placing it in a sealed bag/container, wrapping it tightly in tape, or flushing it down the toilet.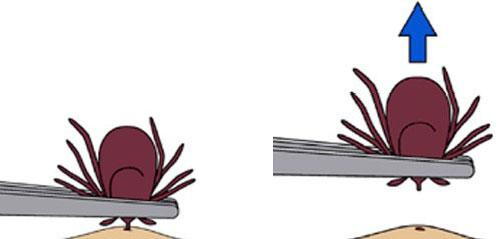 Follow-up
If you develop a rash or fever within several weeks of removing a tick, see your doctor. Be sure to tell the doctor about your recent tick bite, when the bite occurred, and where you most likely acquired the tick.
Untreated Lyme disease can produce a wide range of symptoms, depending on the stage of infection. These include fever, rash, facial paralysis, and arthritis.  Seek medical attention if you observe any of these symptoms and have had a tick bite, live in an area known for Lyme disease, or have recently traveled to an area where Lyme disease occurs.
 

Early Signs and Symptoms (3 to 30 days after tick bite)
Fever, chills, headache, fatigue, muscle and joint aches, and swollen lymph nodes
Erythema migrans (EM) rash:

Occurs in approximately 70 to 80 percent of infected persons
Begins at the site of a tick bite after a delay of 3 to 30 days (average is about 7 days)
Expands gradually over a period of days reaching up to 12 inches or more (30 cm) across
May feel warm to the touch but is rarely itchy or painful
Sometimes clears as it enlarges, resulting in a target or "bull's-eye" appearance
May appear on any area of the body
Later Signs and Symptoms (days to months after tick bite)
Severe headaches and neck stiffness
Additional EM rashes on other areas of the body
Arthritis with severe joint pain and swelling, particularly the knees and other large joints.
Facial palsy (loss of muscle tone or droop on one or both sides of the face)
Intermittent pain in tendons, muscles, joints, and bones
Heart palpitations or an irregular heart beat (Lyme carditis)
Episodes of dizziness or shortness of breath
Inflammation of the brain and spinal cord
Nerve pain
Shooting pains, numbness, or tingling in the hands or feet
Problems with short-term memory
Important Take Aways Regarding Lyme Disease
Prevention and surveillance are the keystones of management. Nightly skin checks for ticks are strongly recommended. The risk in New England of acquiring Lyme Disease after a tick bite is no higher than 3%. If a deer tick is engorged and attached 36 - 72 hours, risk is slightly higher. However, prophylaxis with antibiotics is not routinely done for children due to risk of antibiotic toxicity. It is never done for those under 8 years of age as doxycycline antibiotic cannot be used. Tick testing is not done. Blood work (diagnostic testing) is not done after a tick bite as serologic tests are not helpful in early infection. In potential disseminated manifestations of Lyme disease, the differential diagnosis is very broad so diagnosis requires a typical clinical illness and not just random testing for Lyme.  Clean area with soap and water. Apply 1% hydrocortisone cream/ointment 3 x/day if itchy. If it's been scratched, apply Triple antibiotic ointment or Bacitracin 3 x/day.
References
Centers for Disease Control & Prevention (CDC). (2019). Lyme Disease. Retrieved from https://www.cdc.gov/lyme/index.html
Information from the AAP Red Book of Infectious Disease, the experts in disease management.